Bring your dry riverbed or accent garden to life with the vibrant colors of Exotic landscape glass. Manufactured to remove sharp edges and guaranteed never to fade, landscape glass is available in many colors and sizes and is sure to be the talk of the neighborhood.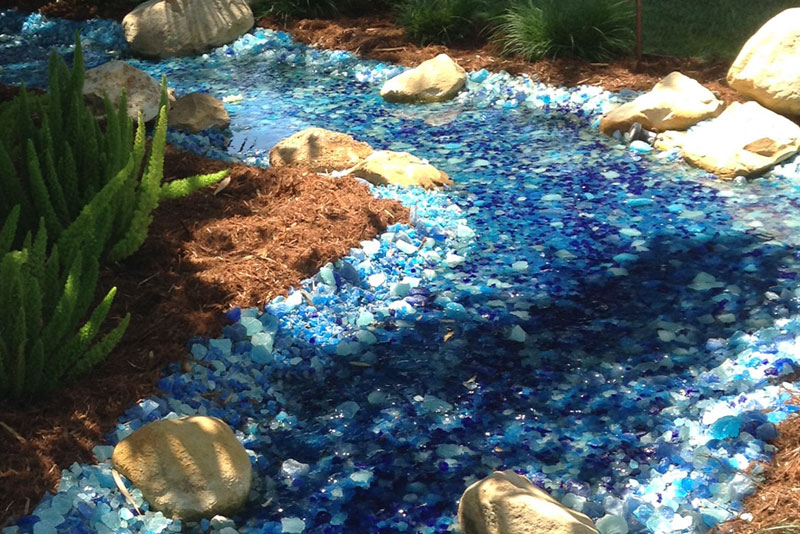 Landscape Glass Collection - Available in Small (1/4 - 1/2 inch), Medium (1/2 - 3/4 inch) and Large (3/4 - 1½ inch)
Size Comparisons
Landscape Glass Sizes
Sizes: Small 1/4 – 1/2 inch, Medium 1/2 – 3/4 inch and Large 3/4 – 1½ inch
Package Sizes:
We offer packaging in different sizes to fit your projects needs:
10lb Stand-Up Bag
25lb Poly Bag
---
Landscaping glass is the perfect decorative addition to resorts, restaurants, patios, and personal gardens. Our glass collections are specifically designed to compliment your landscape and add the desired ambiance to make an outdoor space as relaxing and comforting as one indoors.
Choose from a large variety of colors, sizes, and quantity to perfectly match the decor of your outdoor living space.
Create your very own glass flower beds, designs, walkways, and exotic living space that will immediately separate your environment from any other.
Our landscape glass is unlike any traditional gravel and is made from 100% glass products. Mix and match colors and sizes with our fire glass collection to completely outfit your yard.