Replace your dirty and aging logs, wood and lava rock with a truly unique and modern look of Exotic Fire Glass. Our reflective or natural fire glass range is perfect for any natural gas or propane fire pit or fire place applications. Exotic Fire Glass is environmentally friendly, provides long lasting color, will not melt, and is available in many different colors and sizes to suit.
Reflective Fire Glass Collection - Available in 1/4 inch and 1/2 inch
Fire Glass Collection - Available in Small (1/4 - 1/2 inch) and Medium (1/2 - 3/4 inch)
Size Comparisons
Fire Glass may vary in actual size and shape due to the unique crushing and sizing process in the manufacturing of glass. Reflective Fire Glass sizing is measured by the original thickness of the glass before crushing.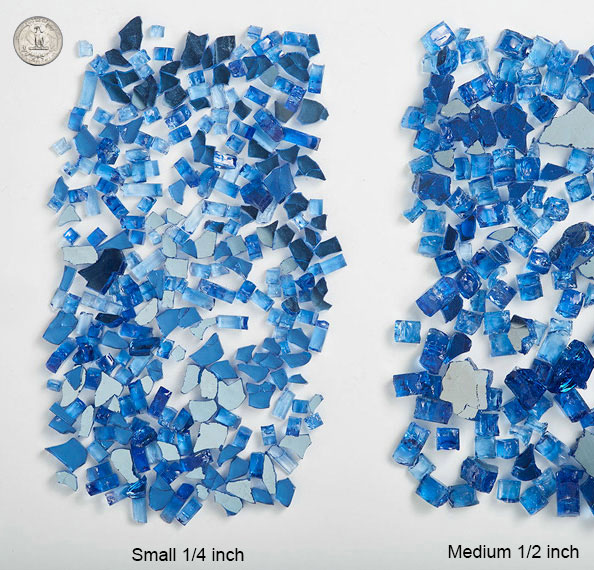 Reflective Glass Sizes
Available in Small 1/4 inch and in Medium 1/2 inch
Fire Glass Sizes
Available in Small (1/4 – 1/2 inch) and Medium (1/2 – 3/4 inch)
Package Sizes:
We offer packaging in different sizes to fit your projects needs:
10lb. Stand-Up Bag
25lb. Poly Bag
25lb. Pail (Only available at Lowe's)
Fire Glass: Sizes and Types
Exotic Pebbles & Glass is best known for our spectacular collection of fire glass products. We provide the most stunning all natural glass decor that outfits your fire pit or any fire range magnificently. We offer several types of fire glass to choose from and the benefits of using fire glass over traditional fire wood cannot be mistaken.
Glass Sizing
Choose either ¼ inch or ½ inch fire glass in the quantity (including our new 12 lb fire glass pail) you desire to fill up your fire pit perfectly. Our decorative glass products are also available in smaller sizes to suit any fire application.
Reflective Fire Glass
Exotic Pebbles offers the most gorgeous reflective fire glass collection and in a wide range of colors to help you match the design of your outdoor living space. Our reflective fit pit glass will continue to shimmer, dazzle, and shine after years of use. Our top selling colors include: black fire glass, cobalt blue fire glass, sky blue fire glass, and gold fire glass.
Eco Glass
Exotic Pebbles and Glass retails only safe and environmentally friendly glass products. All of our product is designed to burn safely in your fireplace or outdoor fire pit and to endure years of consistent usage. Our eco fire glass contributes to a safer environment.
Fire Pit Applications
What is fire glass? Fire glass is commonly used by resorts, hotels, restaurants, shopping centers, apartment communities, and home owners who are looking to enhance the design and atmosphere of their outdoor or indoor living spaces. It serves both an aesthetic and functional purpose and is an exceptional replacement to fake wood logs or other burning material.
Use fire rocks or lava rocks to cover up propane lines and exposed gas jets while also helping to control the direction of an open flame. The glass itself is designed to withstand extremely hot temperatures without melting or changing form.
If your fit pit is no longer burning as consistently as it once used to, consider upgrading your ring burner and checking your gas line. Our fire pit safety guide will help ensure that your yard or outdoor living area fit pit is properly staged and outfitted.
Ordering The Correct Amount of Fire Glass
Use our coverage calculator located here to ensure you order just the right amount of glass for your specific project. There are no limits to what you can do. Browse our collection catalog for further inspiration or visit our fire glass frequently asked questions page for more info.
Where to Buy Fire Glass
You can purchase Exotic Fire Glass online or from one of my authorized local retailers including Lowes, You may view the nearest fire glass retailer here.