The people have spoken and we have catered to their requests for a clear container that is perfect for filling small to moderately sized fire pits. Exotic Pebbles is proud to Introduce the new "clear-view" and "easy to carry" 12 Pound Fire Glass Pail of our industry leading Classic Fire Glass and Reflective Fire Glass to reform and modernize the homeowner fire feature experience!
The Clear 12 Pound Fire Glass Pail
The clear presentation of the new 12 Pound Fire Glass Pail allows our homeowner clients the ability to clearly see the different colors and textures of our Fire Glass to select the appropriate one to fit their design needs. As people, we need to clearly see something in its actual state to full make a decision. We would hate for our customers to get back to their residence after prepping their fire pit or fireplace, and not like the choice they have made. This eliminates all doubts and concerns about the size and color of the fire glass, which I know our customers will appreciate.
The 12lb. pail also features a comfortable sturdy handle providing consumer confidence when the pail is selected and handled for purchase. The packaging in itself is "added value" as a multi-purpose container for the homeowner because, we all need a bucket sometime around the house.

Classic and Reflective Fire Glass
The new clear packaging isn't just a new container size, but a new program which features our largest and most distinctive sizes and colors of our industry leading Fire Glass. The program includes 16 of our very best selling items including: 8 of our prominent ½" sized Reflective Fire Glass and 7 of our ½" – ¾" sized Classic Fire Glass.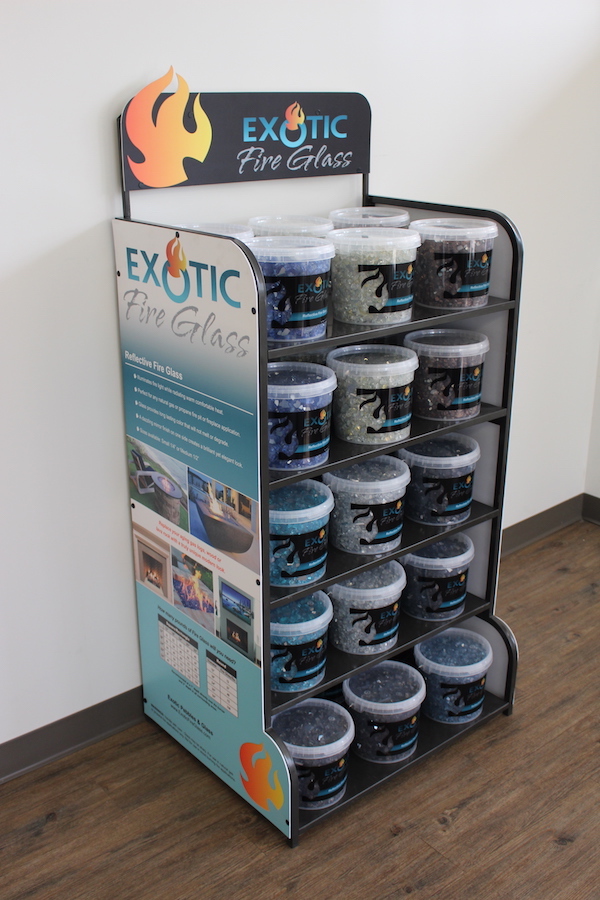 The Classic program also includes our contemporary and unique Black Lava Fire Pebbles. Here are a few of our top selling colors for example: Copper, Cobalt, Black, Sky Blue, Bronze, Gold, Silver, Teal, Amber, Bahama Blend, Turquoise, Ocean Blue, and Chestnut. We have the correct color and texture to meet any interior or exterior fire feature design application of today.
Utilize the Fire Glass Coverage Calculator
You can see our new 12 Pound Fire Glass Pail Program as a Fire Glass option on the website here. Make sure to utilize our coverage calculator to to easily determine how much Fire Glass you will need for you specific project.
Also make sure to stop by our Gallery and take a look at a few images to draw some inspiration on how you would like to design your fire pit or fireplace, and what color or style of fire glass you would like to use.