What's the main reason for putting up decorative fence panels?
The main reason that people put up decorative fence panels in their yard is that they would like their yard to be aesthetically pleasing.  They yearn for a more modern and designer looking barrier rather than a boring normal wooden or metal fence. The top reason for having a fence is for security. When you think about a fence, you likely envision an enclosed area around your property. Whatever the reason for your fence– for example, a designated border for the safety of your children or pets– you may, then, need a security fence that encompasses your entire yard leaving no gaps. However, securing your yard isn't the only reason to put up a fence! Decorative fence panels can be used to revamp the look in your garden.
The backyard space that your garden provides is precious. It gives you the opportunity for outdoor living, enjoyment of natural air, and relative tranquility. While the first thing that comes to mind when thinking about enhancing the appearance of your garden may be a well-manicured lawn, bordered flower beds and beautiful patio furniture, you may also want to consider your fencing. The fence borders your property and adds security and privacy.
How your fence appears can dramatically affect the appearance of your garden in general. Whereas you can revamp the look of your existing fence with a lick of paint and some touch-up repairs if your fence is looking worn out, ratty and weak, then it is most likely the best time to put resources into a new one. A fence should be thought of as an investment; buy it wisely, and it will serve you for years.
Decorative fence screens add shade, privacy, intrigue, and magnificence to your home exterior. Decorative garden panels are gaining popularity by the day as they are among the top home improvement ideas to consider. Regardless of whether it be a DIY house remodeling project, professional landscaping, interior design or architectural and commercial building restructure, decorative fence panels provide beautiful style and visual drama. Fence panels also offer efficient partitioning of open spaces to provide privacy or create simple sunshade. Simply put; one's imagination only limits the creative possibilities.
Often referred to as outdoor privacy panels, they may at first seem straightforward. However, there are numerous shapes and styles of decorative garden panels available in the market today that can truly give your garden the WOW factor, while also keeping your privacy.
Here are a few backyard design ideas using decorative fence panels
Create boundaries that are not claustrophobic
There were days when you could kick back, relax and savor the glorious solitude in your backyard. Then the neighbors next door cut down the trees on their lot, and the family on the other side redesigned their home to include a second-story deck with fantastic views of the neighborhood that includes a full view of your yard! Suddenly you feel like "big brother" is watching. If you live in such an area, then privacy is at a premium. And it isn't just about noisy neighbors invading your space – you may also want to block your own view of the neighbor's yard.
There's a myriad of backyard design ideas using decorative fence panels that offers privacy without feeling claustrophobic in your enclosed garden.
Your fence doesn't really have to block the entrance to your yard. By using just a few decorative fence panels, you can create a clear boundary between your yard and your neighbors. With a little bit of creative backyard design ideas, you can enclose your space in your yard without blocking the view, so your garden feels open rather than closed off. It's astonishing what impression a bit of fencing can make!
Use decorative panels to mark the corners of your property
You can keep your yard open while still clearly outlining the boundaries around your property using corner fences. A corner fence is a beautiful decor element that includes two fence pieces making an angle– like the corners of a rectangle – but without the other part of the fence that links one corner to the other. If you put one at each edge of your yard, anyone viewing your property will quickly imagine invisible lines connecting to the corners.  Furthermore, decorative fence panels used in corner fences are an incredible compliment to the landscape and are simple to incorporate into other backyard design ideas.
If you'd like to add more design elements, go ahead and add decorative glass pebbles in your corners or add little flower beds and finish off each corner with landscape glass! Garden panels are an excellent choice for showing off your plants while conveying a typical American style to your yard.
Related: Outdoor Privacy Screens Guide
Adding decorative fence panels highlights (or hides) your yard's attributes.
Coverup fences: Do you have a hideous generator plainly displayed in your yard, or are recycling cans and trash ruining your landscaping design? Probably your garden tools and supplies are cramped on one side of our yard because you don't have a shed? These unattractive features in your backyard can be quickly fixed by building a mini decorative fence around them. Well installed decorative fence panels will not only conceal the lesser appealing highlights of your yard, but it can also add a beautiful look to your landscaping design. For this reason, a strong and sturdy decorative fence panel works best. Panels with 60% – 80% privacy will also do a great job in concealing unsightly features in your backyard.
Decorative garden panels: If you have a garden, you naturally want to show it off, but while leaving it open, your kids or pets may damage it. Building a mini fence around your little garden will stop hungry critters and unwelcome fuzzy guests while enhancing its beauty. Installing a lattice fence that features 60% privacy is an excellent way of confining your garden without taking away the attractiveness that your plants provide.
Spa and Pool Fences: There are plenty of backyard design ideas using decorative fence panels that you can use to create stunning customization for your pool or outdoor hot tub. The pool area is another feature in your backyard that may warrant special fencing to provide privacy both for your guest and family while taking a dip.  Try a Marrakesh garden screen panel which is made up of hardwood and so it will hold up against any water splashes!
Alternatively, construct a visually striking feature wall using naturally looking Daintree decorative fence panels which blend well with your garden layout, provides up to 80% privacy and maintains a harmonious aesthetic with the rest of your house exterior design.
The adaptability of decorative fence panels allows high-level customization such that you can easily incorporate back-lit LED strips, slat in-fills or custom tile veneers among other design that will add that "wow factor" to your space. 
Other backyard design ideas to consider
There are lot more creative ideas for using your fence for decorating your yard space. We've only scratch the surface! A couple of other ideas include:
1. Lining the entrance to your backyard with a split rail fence made of decorative panels
2. Growing vines on a trellis made of decorative panels
4. Do you still need to conceal more gaps in your hedges? Add decorative fence panels on the gaps.
5. Cordon off a bit of your yard to create a smoking zone or for any other purpose
Considering the ideas discussed above, it is quite clear that – fences aren't just for confinement, and don't have to be restricted to your property's perimeter. Using fence panels as decorative features allows you to harness the personification of your landscape design. Should you be looking for a new DIY project, then finding an exciting way to include fencing in your backyard design ideas could be it!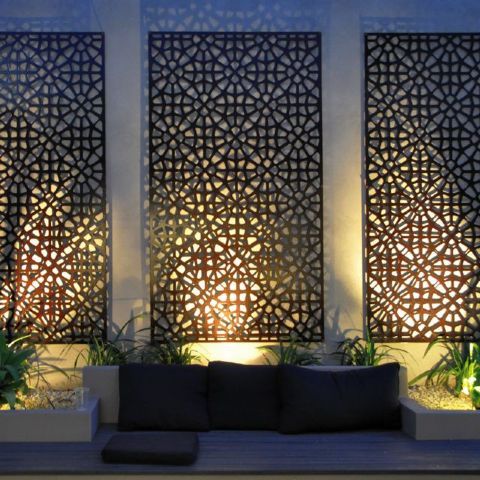 Buy Decorative fence panels Online
Fences are typically made up of panels or segments, instead of one long piece that runs along the whole perimeter. Decorative fence panels can be made of metal, hardwood, concrete, vinyl or any composite material. Each board has horizontal or vertical panels on their exteriors held together by two or more cross posts. Having fences sold in multiple components offer a great deal of flexibility which allows you to execute any of your backyard design ideas quickly.
Pre-made decorative fence panels come in various styles, widths, and heights. The standard sizes in the market include 24×48 inches and 48×70 inches and offer 60%, 80%, and 90% privacy.
To determine how many panels are needed for your project, the first thing you need to do is settle on a standard fence panel length. After that, measure the perimeter of the space you intend to close and divide the findings by the length of each fence panel.
Supporting posts are put up on each interval of the panel's length, for example, you will install one post after every 70 inches when installing 48×70 decorative privacy panels. Furthermore, each post is fixed with lad screws at the center of each panel. For metal decorative fence panels, the metal posts come pre-punched to enable easier mounting.
Decorative fence panels used in residential structures are mostly made of hardwood, metal or vinyl. Wood garden panels are the popular choice. Hardwood is not only economical when purchasing pre-made, but they also provide natural look which will incorporate well with any backyard design ideas.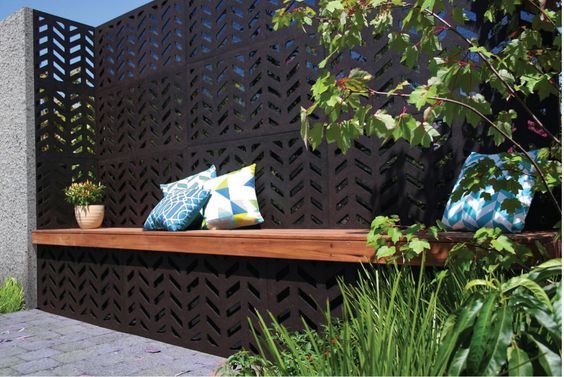 Why it is a Great Idea to Buy Decorative Fence Panels Online
One significant advantage of buying pre-manufactured decorative fence panels online is time. As opposed to laboriously making each fence panel from scratch, you have the benefit of skipping that tedious work and moving directly to setting up and installing the fence panels themselves. This implies that your DIY decorative fence panels installation can take just a single weekend to complete, this includes fence preparation, instead of spending multiple weeks. Have your backyard design done and ready for spring and summer faster!
The second advantage of using pre-made fence panels is quality. You can buy decorative fence panels online from a trusted dealer like Outdeco without worrying about quality or conformity. Industrial manufacturers of fence panels finish and inspect each board by hand and maintain high-quality control process to guarantee a uniform quality of each decorative panel.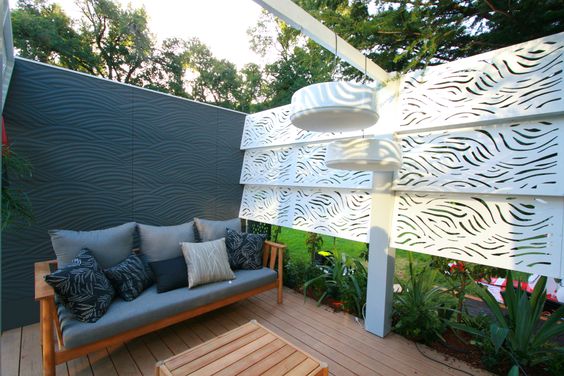 Top Decorative Fence Panels You Should Consider
Here are some pre-manufactured decorative fence panels you can purchase online today:
Leafstream panels – 24×48 inches 60% privacy
Use the Leafstream decorative panel to hide your air conditioning unit.
Even though we all acknowledge the importance of air conditioning in our homes, the a/c unit in the backyard is not so attractive. Use Outdeco's decorative Leafstream panels to hide the unattractive air conditioner. Made of high-quality Australian hardwood, these boards have tasteful design and will beautify your backyard. Leafstream panels are available in 24×48 inches with 60% privacy.
Combine three Leafstream panels to hide your air conditioning unit attractively quickly.
Leafstream panels are hinged on the side for quick installation.
Made of Australian natural and highly durable hardwood. Quick set up. Easy to move around and store. This Decorative fence panel is a favorite for being used to hide trash cans or create a boundary anywhere in your yard.
Mahjong – 24×48 inches 60% privacy
The dark-colored woodwork of this beautiful Mahjong fence panel will look incredible wherever you choose to fix it. The square sections provide ample space to grow plants. Mount it on the exterior walls in your home to create a vertical garden trellis for your vines.
Alternatively, you can use it in your garden for growing climbing vegetables like peas and tomatoes. The trellis can likewise be set up on a porch or deck to create a natural themed look. With a durable wood casing and cross-section design, this decorative fence panel offers a unique appeal and ample space for your favorite plants to grow beautifully.
A decorative fence trellis panel for your garden or home. Features an attractive lattice hardwood finish that will look amazing when mounted on the wall or installed in a plant box
Suitable for growing climbing plants like peas, tomatoes and a variety of flowers
Measures 24×48 inches and provide 60% privacy levels
Bungalow – 24×48 inches 80% privacy
The Bungalow decorative fence panels are made out of natural Australian grown hardwood and can be installed anyplace including on the yard, around the pool, patio, deck, garden, indoors or on the balcony. The panels are quick to install thus giving you the chance to try out different garden design ideas if you are looking for the perfect look. Bungalow fence panels are made of the lovely Australian hardwood, a natural hardwood growing in protected forests. Outdeco's hardwood products are highly resistant to termites, fungi, decay, and rot. Moreover, the wood is carefully dried in a furnace before production. Set four Bungalow panels to create a unique yet beautiful boundary between you and your neighbor's property or set up a mini fence to protect your garden from your kids or pets. 
Bungalow panels provide privacy and hardwood. It is incredibly durableRepels insects and water resistant to decay and rot rich in color.
Marakesh – 24×48 inches 80% privacy
The Marakesh hardwood decorative fence panels add privacy and magnificence and to your outdoor living areas. The panel's vibrant wood finish originates from Australian natural forests. The fence panel provides warmth, concealment and contemporary style to pools, backyards, walkways, and patios. Marakesh hardwood panel is highly durable, which means it is resistant to scratches, fungus, warping, rust, and rot. The panel's surface is finished with natural oils which are antibacterial and hydro repellant.
A decorative garden screen made of hardwood
Perfect for partitioning rooms, garden area or concealing backyard features
Easy to join with other panels.
Star Anis – 24×48 inches 80% privacy
Do you want to ensure additional privacy or do a makeover to showcase an alluring decorative theme in your indoor or outdoor living space? This excellent Star Anis fence panel features a strong wooden board in rich dark color to offer a chic layout that certainly adds a visually appealing look to any backyard design ideas you are trying out.
Thanks to the quick installation of each Star Anis panel, you can swiftly adjust the size of your fence in length or height as required. You can as well quickly dismantle the frames for convenient storage. A stylish way to create a boundary either in a room or backyard, this Star Anis decorative fence is the perfect choice to adjust your design options as you like.
An elegant deluxe fence panel that makes it easy to divide a room or mark boundaries in a property. perfect choice for adding visual appeal to your decor easy to adjust the size in both length and height. Quick set up. Will only take you a few hours to install.
Herringbone – 24 x 48 inches 80% privacy
Herringbone decorative panels are the perfect decor addition to any backyard. These outside garden screens hide unattractive gardening tools and other yard items, add privacy to your yard or completely separate your backyard from the neighbors. Use this decorative panels to conceal all your garbage cans, bikes, a/c unit, recyclables or lawnmowers. Herringbone fence panels are UV-resistant and not only makes your outdoors neater, but they also require no maintenance, new paint job or repairs due to mildew or rot.
The wavy like design provides 80% privacy levels. The aesthetical design is on both sides. Connect various Herringbone panels to create a perimeter fence.
Hide unattractive yard tools like the A/C unit, lawnmower and more Herringbone panels adds elegance and stylish look to your deck or patio
Offers 80% privacy from prying eyes
Easily connect two or more panes to create a perimeter fence
Daintree –  48 x 70 inches 80% and 90% privacy
Daintree decorative fence panels are a makeover alternative to the standard horizontal fencing boards. In case you're looking for creative backyard design ideas that will stylishly create a boundary or divide an area of your backyard like a patio or shed, then these cutting edge wooden Daintree fence panels are perfect. These international quality fence panels are laser cut to form leaf-like partners closely spaced to provide 80% and 90% privacy levels. The design shows on each side of the panel which is both well finished.
Two or more Daintree panels can be joined to form a fence around your yard, or you can install it vertically as a material for your plants to grow on. 
– Perfect fence panels for nature-themed decor. 
– Measures 48×70 inches. 
– Popular decorative fence panel. 
– Modern contemporary styling with elegant finish. 
– Highly durable hardwood
Orient – 48 x 70 inches 90% privacy
Protect your pets and kids with this polished Orient decorative fence panel offering a stylish and complex design. This 70-inch-high fence panel checks most legal requirement in the pool code, and with tiny holes features in the design, each panel has minimal space in between thus making it completely secure for your kids and pets. Connecting different panels creates a continues groove, which is not only beautiful but ensures maximum levels of 90%. 
Additionally, the Orient decorative fence panels are highly adaptable and portable. Each panel is sold as a single unit of 48×70 inches. Depending on the size of your project, you can buy several panels and easily assemble them within no time at all. To install a couple of Orient panels, dig holes that are about 2ft deep, insert the post in the holes and cover with concrete footings.
Orient decorative fence panels are made of high-quality hardwood and designed to provide quick and easy assembly. This is the perfect panels for protection and safety in your pool or yard.
Premium weather-resistant hardwood offers a natural look of well-polished wood that needs no maintenance. Orient is manufactured in professional-grade quality. It is better looking, stronger and resistant to UV rays. Quick setup and installation means you can quickly do it yourself and be done in no time. Each panel is sold separately and comes in 48×70 inches with 90% privacy levels.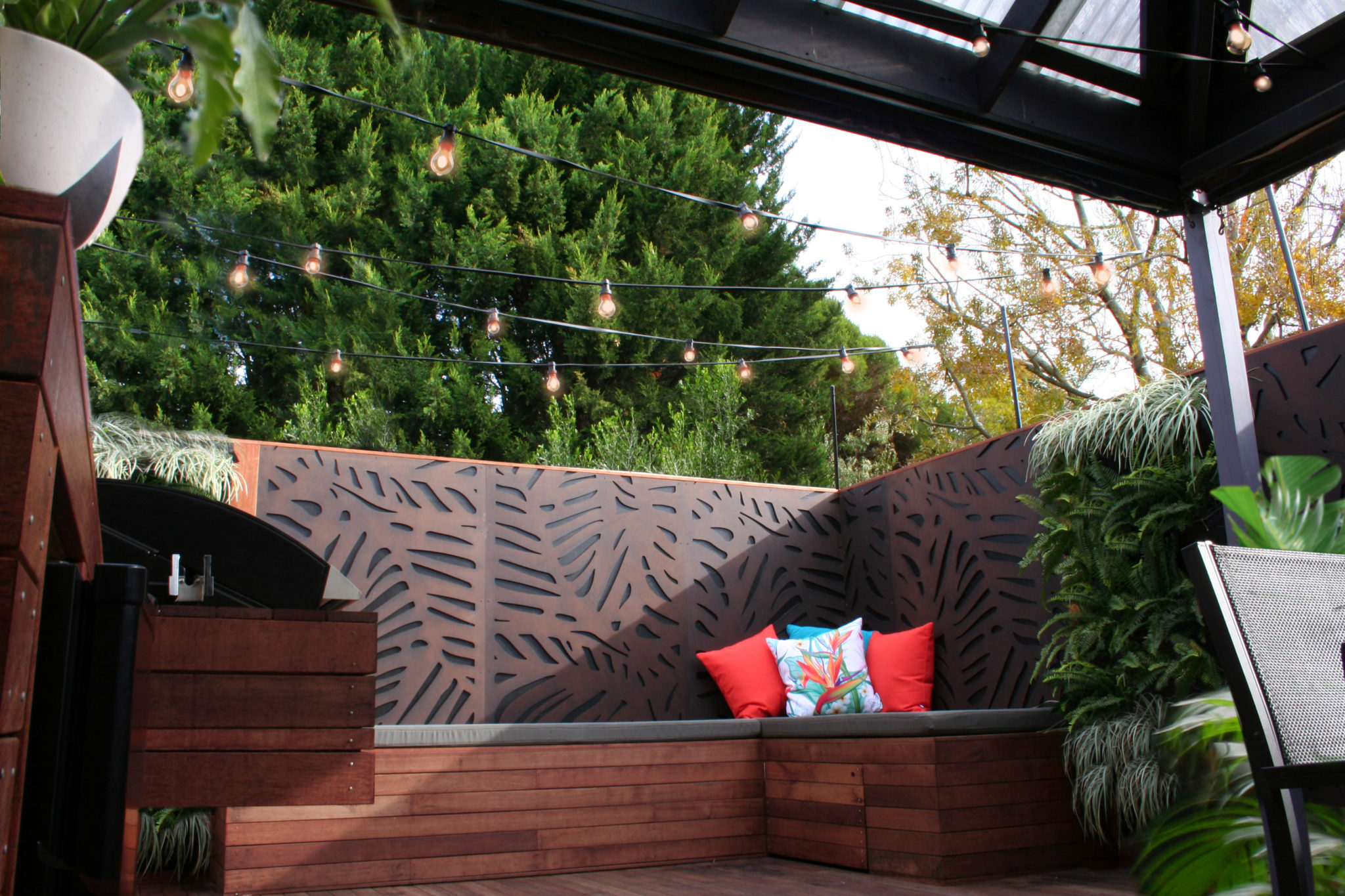 Above is a fantastic range or sustainable decorative fence panels for all backyard design ideas and DIY projects. Regardless of whether you are looking to add privacy, shading, visual screening, patio partitioning or you are just looking to do a makeover of your outdoor living space, there are different privacy levels and unique designs to match your taste. 
Outdeco decorative fence panels are made of high-quality Australian hardwood. The boards are affordable and adaptable to any backyard design ideas. Each board comes ready to install. Buy decorative fence panels online today.