The following is a 2019 buyers guide to fire glass crystals, created to help you make an informed decision when sprucing up your house this year. In the following article, we will outline the different types of fire glass crystals and how they are made, how does fire glass work, what type of gas is ideal for your fire (natural gas or propane), and also the cheapest places to buy fire crystals.
We will also answer other questions that customers have sent us such as:
– What are fire glass crystals?
– What is reflective fire glass?
– What is a fire pit glass?
– Is fire glass flammable?
But before that, I will give some quick information about what fire glass pebbles are.
What are fire glass crystals?
Fire glass crystals are composed of small bits of tempered glass that are used in fireplaces and fire pits. They are used as a replacement for outdated ceramic logs to give the homeowner, restaurant, or hotel a decorative flair. The fire and ice combination quickly became a fast-growing trend for homeowners and designers since its introduction in 2010. Since then, it has been much more common to see fire glass pebbles used in fire pits, tabletop fireplaces, and fireplaces. Restaurants and hotels are quite fond of fire glass pebbles because of their low maintenance attributes, as they hardly ever need cleaning or replacement.
Fire glass pebbles like this serve two primary purposes – Functional and Aesthetics. A Fire glass pebble quickly became a very popular alternative to ceramic gas logs. The logs can disrupt the ambiance because it is quite apparent that they are fake. Moreover, exposed natural gas or propane lines can create a weird visual that tend to block the natural movement of the flame. Fire glass became a popular alternative to fake ceramic gas logs that kill the natural ambiance of a dancing flame. Since everyone knows the logs are fake, why not fill the fire area with something beautiful?
Since fire glass pebbles are translucent, they create an exceptional look when they glitter and shimmer under a clear night sky. The flames rise up around the fire glass pebbles in a specific way that create an aesthetically appealing setting that gives it the illusion that the fire glass pebbles are on fire.
Fire glass is available in a wide range of colors:
Copper Bronze
Tahitian Teal
Crystal
Ice Clear
Turquoise
Chestnut
Aqua
Bahama Blend
Red
This wide range of colors will help set the tone that perfectly matches the interior design of your home, hotel or restaurant. You can browse our gallery here for some inspiration. 
How Does Fire Glass Work?
Let us check How does Fire glass work? Fire glass pebbles are put through a special treatment that allows small pebbles to come in direct contact with hot flames without melting. Tempered glass is a type of safety glass that is commonly used for a variety of applications including windows, computer screens, and shower enclosures. A Fire glass pebble is a tempered glass that adds color and reflection to fire pits and fireplaces. It consists of small, stone-like pieces that are rolled and polished so that they aren't sharp or dangerous.
Fire glass crystals are made out of recycled glass, making it a brilliant repurposed product that is original and authentic. Since it is tempered, fire glass pebbles don't melt, soot, or explode. It's safe to use and does not emit any harmful byproducts into the air.
Fire glass pebbles usually comes in the shape of small pebbles or in the form of crystals. Fire glass crystals are made to simulate the look of diamonds and other special cut stones. They are essentially the same thing, merely represented in a different shape.
What fire glass pebble colors are good for what locations?
Color is an important visual in our lives. A fire feature like one of our fireplaces or fire pits works well, in that the glass itself can be used as the complementary color in your design. A delicate balance must be met between the compliment and the dominant colors. The compliment can only touch on eye-focal points and not dominate the overall design. Think of an all-white room, if we were to compliment the white with black fire glass pebbles in our fireplace, the fireplace becomes a focal point and center of the room simply by our eye being drawn to the contrast in color.
More advanced color schemes usually complicate home design as simplicity and clean function are the latest trends designers are following. Think of the colors already utilized in your home. What is the paint color used on the walls? Picture frames? Does your existing fireplace use warm or cool colored stones? All of these are important factors when buying the right colored Fire Glass pebbles for your needs.
Warm colors are those that "feel," warm such as red, orange, and yellow. Cool colors are those that "feel," cool like blue, purple, and green. Neutral tones such as black, white, and grey have no temperature identity of their own unless coupled with another color; then these neutrals take on the identity of their compliment. This all happens in the eye. Because the eye is constantly fighting against an overabundance of stimulation, it has to identify what is most important to focus on.
Where to buy Fire Glass?
Are you searching the places from where you can buy Fire Glass? It is a matter of concern. Here we will guide you on the many places from where you can simply buy Fire Glass Pebbles quickly. There are loads of places from where you can buy Fire Glass Pebbles. But quality is everything. Many fire glass pebbles manufacturers use cheap, weak glass that cracks and splinters, leaving half of your purchased fire glass to be dusty and granule size.  The following are some well-recommended places where you can buy Fire glass pebbles. Let's check out these online places one by one-
Lowe's is an online store from where you can buy Fire Glass in many different colors. As you all know everything is now online. You don't need to go to the store on such chilly days. You can simply just open your laptop visit Lowe's and order Fire Glass in whichever color you want. And then simply enjoy the cold days with warm Fire Glass. Not only this Lowe's gives you wide range of products which includes- Christmas Decors, Gift cards, Electrical appliances, flooring, Heating and cooking and much more.
Amazon
Amazon is yet another best online place from where you can buy Glass fires in variable colors. Amazon is a lot like your neighborhood Walmart store. They feature a great selection of high-quality merchandise, friendly service and, of course, every day at Low Prices. Amazon eCommerce combines the small structure and nimble nature of a startup with the resources of the world's largest retailer. You can browse our entire fire glass products line here. 
Local Fire Glass Pebbles Retailers
If you prefer going to see a local retailer to buy your fire glass pebbles, we suggest that you visit our Where To Buy section on our website. Here, we have a list of retailers closest to you. Simply input your address or zip code to find the nearest stores. We also have links to our Amazon, Lowes, and Houzz online retailers on our fire glass online  page
What is Reflective Fire Glass Pebbles?
There are many different sizes, colors, and types of fire glass pebbles that we have and the one that will be perfect for your decor. Fire glass is heat tempered glass that is processed through a tumbler to prevent rough or cutting edges. It will not melt, degrade or emit toxic fumes and will last a lifetime! Some types of fire glass pebbles are, made from recycled post-consumer glass bottles, window scraps, and furnace cleanouts. In the following paragraph, we will discuss reflective fire glass, along with other types of fire glass pebbles.
Reflective Fire Glass Pebbles
If you are looking for an even more dynamic flame display then reflective fire glass could fit your needs. Reflective fire glass amplifies the intensity of the fire by reflecting the light of the flames. During the day the glass continues to shine as it catches the light of the sun. Reflective fire glass is made from the same color infused tempered glass as our accent fire glass pebbles. However, reflective fire glass has been vigorously polished to give it a mirror-like finish. It will not melt, degrade, emit toxic fumes and does not create soot, ash or smoke.
Types of Reflective Fire Glass Pebbles
Original fire glass pebbles and reflective fire glass offer several different looks or "finishes" to choose from. Here's what they are and what to expect from them.
Reflective Fire Glass Pebbles:
Tempered Reflective fire glass is sometimes offered with a semi-reflective finish.
Non-reflective Fire Glass:
A Glass that is non-reflective will retain more of its true color while your fire pit is lit, rather than reflecting the light.
There is no limit to the ways you can combine and blend different types of fire glass pebbles, but we do have a few favorite options.  
Mix reflective with non-reflective:
Original fire glass for a combination that both shows off the color of the glass and lets the firelight play on its surfaces. This gives you the best of both worlds if you value both color and light effects.   
Mix multiple colors to create your own unique palette. I generally recommend 2-3 colors to create a nice balance.   
A popular new option is to blend lava rocks with fire glass pebbles for an exotic look. The rustic natural stone is a perfect backdrop for the brilliance of fire glass.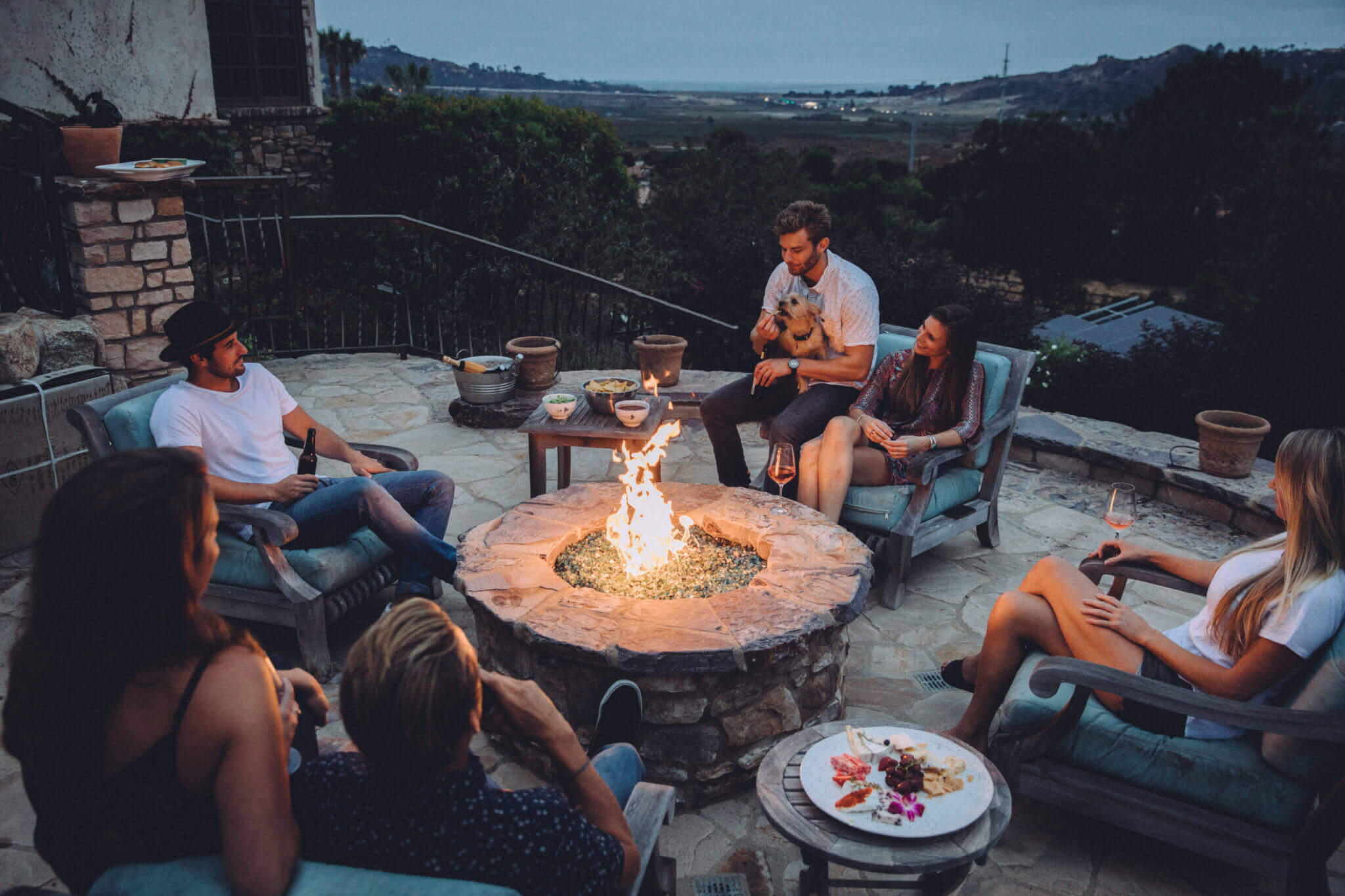 THE PREMIUM COLLECTION – REFLECTIVE FIRE GLASS
Reflective fire Glass pebbles come in several amazing colors collection. Let us check out what are they –
The Reflective Collection from Exotic Pebbles is basically the same as the Classic Collection, but with an added twist. It is manufactured to the same high specification as the Classic Collection and from the same materials.
But during the manufacturing process, one surface of the Fire Glass Pebble is mirrored.
On your fireplace or fire pit, this mirrored surface amplifies the reflections of the flames and colors creating an almost "kaleidoscopic" effect of color and light.
The Reflective range is available in the same 13 stunning colors as the Classic Collection. Which includes Black, Copper, Crystal, Tahitian Teal, Bronze, Cobalt Blue, Sky Blue, and Gold.
Sky Blue Reflective
Sky blue Reflective Reflective Fire Glass is ideal for all propane or natural gas fire applications.This fire glass pebble is richly colored to appeal in indoor and outdoor venues and is tempered to withstand the most extreme temperatures of fireplaces and fire pits. These glass pieces are created through an industry-leading manufacturing process to ensure each piece will maintain form and vibrant color. The glass is complemented by a bag designed for easy handling to apply and store. Use medium size glass for fire pits with hardware requiring larger glass pieces. Feature reflective tempered glass in fireplaces and fire pits to impress all with its durability, charm, and decor.
Black Reflective
This black reflective fire glass pebble from Fire Sense. Choose any of the four beautiful color schemes to compliment your fire pit and surrounding décor. The elegant colors will turn your fire pit into a true work of art while the reflective design will produce mesmerizing flames and a stimulating viewing experience. Fire glass pebbles are easy to install and mess-free. The high-quality tempered glass is heat and fade resistant and will last for years to come. Jazz up your outdoor living space with Black reflective fire glass pebbles.
Other types of Reflective Fire Glass Pebbles
Gold Reflective
This reflective fire glass will add an extra burst of color compared to our regular fire glass pebbles. This glass is recommended to be added on top of the regular glass to create a dynamic look at a lower price. Mix and match colors to create your own design and add your personal flair to your outdoor decor or indoor fireplace. This fire glass pebble is made of the highest quality of glass. It is created by melting color-infused, non-tempered glass into large bricks and then non-uniform pieces are chipped off using a grinder. Those pieces are then tumbled to remove the sharp edges making them safe to touch. This glass will not melt, degrade or emit toxic fumes. Our accent glass comes in a variety of colors for you to accent your fire with!
Cobalt Blue Reflective
This amazing reflective fire glass resembles flattened marbles or jelly beans. This fire glass pebble is made of smaller and irregularly sized tempered glass pieces. Cobalt blue reflective fire glass is color infused and has a fairly translucent finish to them. Smooth fire glass creates a less porous surface than even our 1/4″ fire glass pebbles. This means that the flames will flow under and around the openings in the fire glass, creating an even greater look of liquid fire. Smooth fire glass pebbles will not melt, degrade or emit toxic fumes. Nor will it create soot, ash or smoke.
Copper Reflective
These color offer a modern twist on nature; these balls, shapes, and stones are an artistic alternative to ordinary ceramic logs. Whether you choose geometric shapes or natural looking stones, you are sure to turn your fireplace into a piece of art! These fireplace alternatives are made from high-heat resistant ceramic and come in many different sizes and colors. They work great by themselves or can be placed on a bed of fire glass pebbles to create an entirely new look.
Crystal Reflective
These amazing Crystal reflective fire glass pebbles comes in amazing colors and attractive crystal form.This looks good at homes or hotels.It enhances your home beauty. Perfect for any natural gas or propane fire pit or fireplace applications. Dazzling mirror finish on one side creates a brilliant yet elegant look in any application.
Tahitian Teal Reflective
Tahitian Teal reflective is  Perfect for any natural gas or propane fire pit or fireplace applications. Dazzling mirror finish on one side creates a brilliant yet elegant look in any application. Remove your dirty and aging gas logs, wood or lava rock with a unique modern look.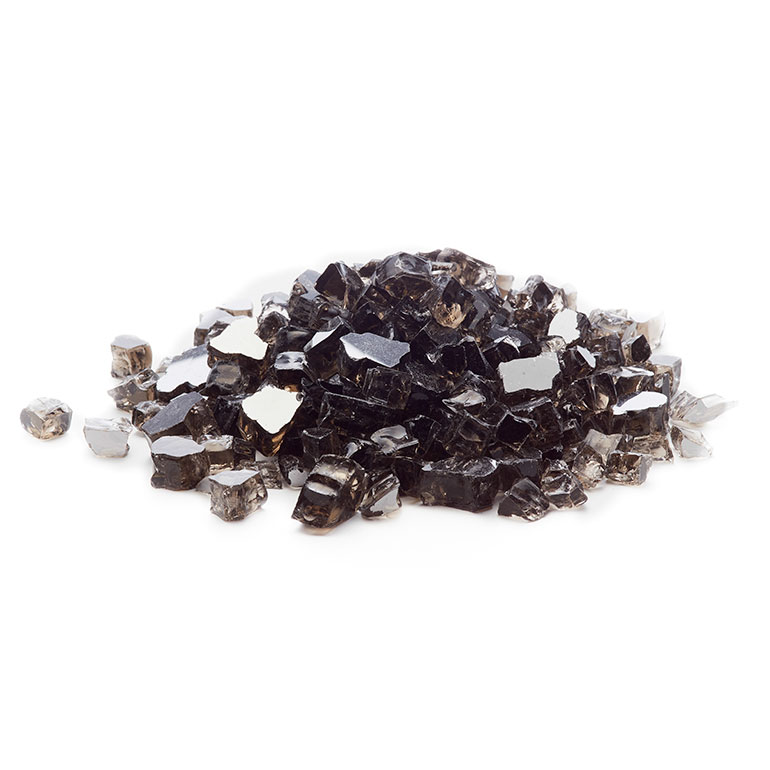 Bronze Reflective
For some homeowners, a black fire glass pebble is just too dark a shade for their surroundings, whereas copper or gold is too light. If your customers are facing this problem, then bronze reflective fire glass may be just what they're looking for. Bronze is a perfect mid-range hue with a natural shade that looks very stylish, yet blends well with many color schemes.
Building A Fire Glass Fire Pit: The Proper Fire Housing
A fire glass pebble can be used both outdoors and indoors with natural gas or propane fire pits. The amount of fire glass you need depends on the diameter of the fireplace, and even the depth of fill you would prefer.
A fire pit is a great way to spend a summer night outdoors or keep warm when the weather gets chilly. Using and maintaining a fire pit is easy as long as you exercise proper safety and caution. Always position a fire pit away from any flammable objects and properly extinguish your fire when you're done enjoying your pit.
Fire glass pebbles, fire pits, and fireplaces have sizzled this year as one of the top additions to many restaurants, hotels, commercial offices and residential homes. Imagine sitting by the fire on a beautiful evening with your family and friends, taking in the marvelous sunset during the golden hour, or under the stars on a full moon with your favorite beverage.
It is also important to determine the basic volume of this space while calculating the number of pounds of fire glass pebbles needed to fill your fire pit. Fire glass can be the perfect addition to your home. It is not only aesthetically appealing but also makes the space more functional. To determine how much is needed, use our Coverage Calculator on our website to calculate exactly how much you need!
There are benefits to business which only a fire glass pebble fire pit can produce. Real estate agents and commercial developers/renters love the value a simple fire pit feature can add to the property's value. When they sell such a property, such structures can result in a surprising sum of money. However, hotel owners, office managers, and homeowners do not necessarily wish to sell their properties. If we take that as our working hypothesis, let us see what benefits are received by these specific property owners if they install fire pits.
Many homeowners and interior designers have recently discovered the beauty of fire glass. Gorgeous in both indoor and outdoor fire pits and fireplaces, a fire glass pebble has an effect all its own. There are a variety of methods used to make the different shapes of fire glass. However, all types of fire glass go through a process called tempering.
How are fire glass Crystals made?
You may have noticed there are a lot of choices when it comes to fire glass pebbles styles. Here's a little more about them and how they are manufactured: There are different types of fire glass I would like to name some-
Original Fire Glass Pebbles
It is made by shattering a large, flat piece of tempered glass. Like other safety glass, it will naturally break into tiny pieces that are all of a similar size.
Reflective Fire Glass Pebbles
Reflective Fire Glass is literally that – crushed and allowed to break apart naturally. As a result, you'll see some attractively organic curves and lines.
Ice Clear Medium
This amazing Fire Glass will not melt, degrade or produce toxic fumes. Glass size -1/2 " or 12-20 mm. 0.125 cubic foot bags, coverage area .47 sq. ft. This fire glass comes with a Rectangular fireplace.
Black Medium
These Fire Glass Made from natural resources. Comes in a variety of Sizes, is Black in color, has a porous surface. For use with fire bowls, fire pits, and fireplaces, either indoors or outdoors (liquid propane or natural gas). This lava can withstand extreme temperatures. Requires very little maintenance.
Turquoise Medium
Turquoise is a friendly color. When you wear turquoise, people automatically perceive you as being easy going and approachable. When turquoise is used as the dominant color in a room, it fills the environment with feelings of ease and comfort. It might be a good color to use when decorating for a friendly get together and the perfect finishing touch for such a gathering would be our Turquoise Medium Fire pit glass.
Chestnut Medium
This Fire Glass is good for outdoor landscapes and fire features. Tumbled for smooth edges. 100% tempered fire glass to withstand extreme temperatures.
Aqua Medium
This color of Fire Glass crystals is ideal for landscapes and for use in propane and natural gas fire applications. All glass pieces are tumbled to produce smooth edges for landscaping while also tempered to withstand high temperatures. These glass pieces are created through an industry – leading manufacturing process to ensure each piece will maintain form and color for years to highlight all indoor and outdoor environments.
Red Medium
There is no color that makes an impact quite like red. Red conveys daring and ambition, and people who love red often enjoy being the center of attention. When you really want to make an impression on an audience, you must not forget to include the color red in your presentation, and if your customers want to really impress their visitors, nothing will do the trick like our red fire glass.
There are other types Fire Glass. Each of these fire glass styles are distinct and are made in a slightly different way. However, they have all been tempered to make them safe to use in a fire. Whichever one you choose is completely up to you! Pick one that appeals to you or that matches your décor, and enjoy your fire glass!   
Exotic Fire Glass
Exotic fire glass crystals from Exotic Pebbles and Glass can turn any setting into a beautiful display of design and style. They are perfect for your home, hotel or workplace that gives just the right amount of decorative flair. For some great inspirational design ideas, check out our gallery. Various sizes, shapes, and colors are available to match any décor and to suit any taste.