Backyards have become more of home extensions in the recent past, which is why we felt compelled to share backyard design ideas with our fellow Exotic Pebbles and Glass following! More and more people are landscaping their backyards for increased outdoor living space to unwind with family and friends. Depending on the backyard design ideas you choose for your backyard, it also can act as a recreational space.
That said, the current trend of backyard design is seeing indoor amenities including fully equipped kitchens, and fireplaces being incorporated into the backyard design ideas. With proper planning, design, and construction, you can create a backyard that is the envy of your friends and family. In addition to this, your backyard landscaping will increase your home's monetary value.
That said, when embarking on a project for your backyard design idea, it is best you start with a plan. Spend ample time collecting backyard design ideas, looking at different images before you dive in nose first into the project. For this, we have got you covered with 6 of the best backyard design ideas the 21st century has to offer.
Backyard Design Ideas with Decorative Pebbles
Back in the 1970s, decorative stones were the go-to landscaping material for most homeowners. Recent backyard design ideas have seen their use resurface. Decorative pebbles sport stunning natural color and beauty that adds texture to backyard landscaping.
But aside from their timeless appearance, decorative pebbles have proven to be easy to install as well as maintain that other landscaping options like grass. Unlike grass, they do not require watering and constant trimming. They do not experience discoloration or decomposition and best of all, they not easily blown away. They can withstand the extremities of seasons with grace.
That said, decorative pebbles vary in color, size, and shape. This allows them to complement different backyard design ideas. Below are some great ways to incorporate these decorative pebbles into your landscaping project.
Drainage
It proves rather difficult to decorate drainages without blocking the flow of water. Pebbles, however, offer a perfect solution. Adding them to your backyard drains or grates adds some life to the drains while retaining the flow of water.
Ground Cover
If you have an eroded pathway or an uneven corner that just bothers you so much every time you see it, decorative pebbles will offer you great and even coverage. In addition to this, depending on the pebble type you choose, you will get to add more color to your backyard.
For an instant facelift, you can place pebbles over your weed mats. If you intend to use these decorative pebbles on areas that see a lot of foot traffic, it is best to use 20-30mm pebbles that sport a depth coverage of 50-70mm.
Tree Bases
Tree bases, depending on the backyard design idea you are going for, are beautiful. That said, you can increase its visual appeal with pebbles of different colors. You may use the pebbles to even the ground on the tree base.
To achieve this one of a kind backyard design idea, start by surrounding the tree with large rocks or bricks to form a boundary and then fill up the resulting space with decorative pebbles of your choice.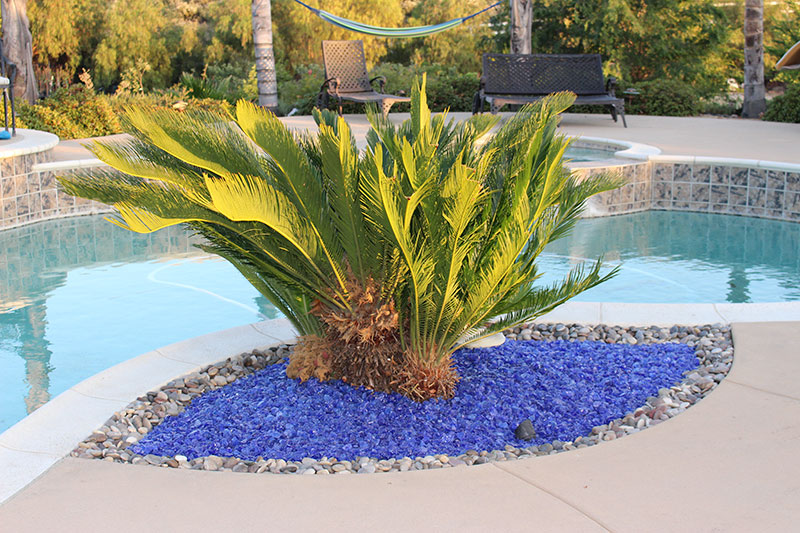 Pathways – Multi-textured
Pebbles can be used to provide you with a unique and stylish pathway. They define pathways and are best used with stepping stones. The decorative pebbles that you choose should complement the color steppers. If you want to steppers to pop out more, use pebbles of a contrasting color. For more texture, you can mix up the pebble colors and sizes.
Garden Mulch
Given their non-decomposing feature, you can use them as mulch for the garden bed in your backyard. Used as a mulch, they will protect the soil from erosion and prevent the growth of weeds.
What is even exciting is the fact that pebble mulch is durable and as such you need not change it every so often. They last for ages.
Yard Art
With decorative stone pebbles, you can create a stunning patterned landscape on your lawn. Outline the art with pebbles. Heck if you want you can come up with a small-sized maze, a chequerboard or just huge spheres. The pebbles can be to outline or fill the patterns you create. Either way, the results are bound to be stunning and an awesome conversation starter.
Exotic pebbles & glass has a wide range of natural and eco-friendly pebbles. They source these from different parts of the world and make them available to you. The pebbles come in different sizes and colors and in 3 different packaging (50 lb, 20lb, and 5lb).
Fire Pit Backyard Design Ideas
Outdoor fires are so cool. For the longest time, fireplaces were seen as being perfect for the interior of a house. However, times have changed and more and more people are incorporating stone walled pits, with varying designs and finishing into their backyard landscape designs. And why not? They are the perfect place to melt your marshmallows and add great light and life to your backyard, even at night. That said, if you are considering this backyard design idea, you best learn how to do it right. There are several considerations that go into building the perfect fire area. At the very top of the list is our expert backyard design ideas, followed by hardware, then materials and lastly the construction of your fire pit.
Safety
In order to enjoy your backyard fire pit, you will have to consider its location. It should be the safest point in your backyard. Ensure that the land is level and away from combustibles to avoid any fire accidents. For improved safety, you can also add a screen to cover your fire pits.
Fuel Type
There are several fuel types available on the market. These include wood, propane gas, natural gas, and alcohol. All of these have their pros and cons.
Fire Glass Fire Pit
This is one of the most natural and eco-friendly approaches to a fire pit, and at the top of our list for our backyard design ideas. This fire pit can run on both natural and propane gas. The fire does not burn the glass in the fire pit, but rather acts like a filler and heat emitter for people sitting around it. 
Propane Burning Fire Pit
With this fire pit type, you can burn petroleum gas in liquid form. When using this fuel type, you should ensure there is proper ventilation. A golden rule of thumb is to have two vents at 180 inches apart.
In the event you intend to use fire glass, you should ensure that it is at least 1 inch above the fire pit burner. Be sure not to have too much material over the burner as you might end up trapping the gas leading to disastrous burst flames.
Also, using propane as fuel, you should ensure that it is well mixed with air. To achieve proper mixing, you will have to include an air-fuel mixer. Failure to incorporate this unit will lead to very sooty fires.
Natural Gas Fire Pits
Natural gas is the perfect alternative to propane. Natural gas produces less soot. And given the fact that it is lighter than air, you do not run the risk of gas pooling in unventilated space. Natural gas is also cheaper than propane. But with all these benefits, it has one shortcoming, its plumbing has to be done by a professional
Hardware
There are different hardware that forms the perfect fire pit. These include burners, igniter, burner pans, air mixers, piping, and valves. Depending on the fire pit design you choose, you will use a match, button spark igniter or an automatic igniter to light the pit. Of all the igniter types, the automatic type is most expensive.
When choosing your burner, you should prefer the stainless steel type. They are usually of better build and quality. Speaking of which, we have a range of different shapes and sizes to choose from.
Materials
When building and designing your fire pit, you will need to consider your material carefully. Why? Well, because they come in a range of different sizes, shapes, and colors. Whichever material you choose, ensure they are fire grade. You should not pick rock, gravel, stones, regular glass or ceramics to construct your fire pit as they tend to explode when exposed to high heat.
Backyard design ideas of a fire pit
Now, knowing what goes into building a perfect fire pit is only one part of the equation. To build a stunning fire pit is another. That said, you should research to get some inspiration for cool fire pit designs.
You can build your fire pit large or small, with a small pit or a large pit and in any shape you prefer. But when you are done designing and constructing, be sure to use fire glass as filler on your fire pit. They make a fire pit more attractive than wood or logs. The best part is that they are environmentally friendly and come in many different styles and colors.
Backyard Design Ideas for blocking out neighbors
Truth be told, it is not always that backyard landscapes can be changed. And even when they can be changed, sometimes the process is expensive than the alternative. That being said, it does not mean that all hope is lost. As a matter of fact, you still have a card up your sleeve to turn things around for you. Outdoor privacy panels are one of the latest elements you could incorporate into your backyard design idea. However, unlike many of the other elements we have looked at in this piece, outdoor privacy elements are more of subtractive than additive elements.
Subtractive in this case means that with these outdoor privacy panels, you have the ability to remove some features of your backyard that you do not want your neighbors to have a view of. They only see what you 'allow' them to see. In the past couple of years, outdoor privacy panels have increased in popularity to hide things. They are after all privacy panels.
Exotic Pebbles and Glass avails outdoor privacy panels with a privacy rating of between 60 and 90%. Visibility is limited from both sides. This characteristic as such affords you some intimacy and ability to relax in the space.
The high privacy rating is best for creating the intimate environment. But this is not to say that you cannot achieve the same with semitransparent panels. You can. All you have to do with the semitransparent panels is install more lighting on the outside than on the inside. This will give you an isolating effect.
If you are working with a small space, you should only strive to shield or segment and not close up completely. Segmenting is more of adding a layer of obstruction for the viewer. The resulting design stimulates the imagination and adds to it a volumetric complexity.
Paint with light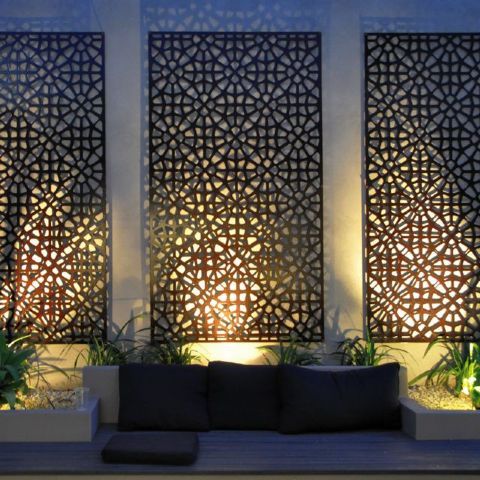 To give it a more dramatic effect, you could add some lighting at the bottom of the panels. Colorful beams shone on the patterned outdoor privacy panels will create an artistic visual everyone will love.
However, adding lights is a little bit tricky as you have to consider the changing seasons. Different types of light will provide different temperature on the panel in different seasons. But while it is a bit tedious finding the perfect light and panel combination, when you do get it right, it is very rewarding.
Landscape Glass Backyard Design Ideas
Landscaping glass provides a beauty that lasts for ages just like decorative pebbles. The landscaping glass makes transforms your backyard design idea into a piece of art seemingly done by a professional in the industry. And in case you are wondering, there are many places you could incorporate landscaping glass in your backyard – the sky is the limit with these possibilities. The variety of sizes and colors add to the numerous designs you could pull off.
Flower pot fillers
There isn't a backyard that is complete without a flower basket or a flower pot. Potted Flowers lead our list of backyard design ideas because of there ease of installation and the great job they do of sprucing up any area. They add life to the spaces they are placed. As such, it is only right that we create a beautiful environment around them as well. Adding glass to your flower pots will provide your landscape with more color. Instead of having dirt at the base of your flowers, use landscape glass of whatever size and color that pleases you. Just make sure it complements the beauty of the flowers.
If you are looking to add some decorations to your landscaping backyard design ideas, but are not exactly in love with the idea of surrounding it with dirt or just wood chips (it has become too cliché), you can opt to use landscaping glass (colored).
Mix up the colors to provide you with a more pleasant and interesting landscape design.
Create a faux pond
If you love the general idea of having a faux pond, then, by all means, create it. A faux pond, needless to say, is a masterpiece on its own. You can surround the faux pond with an intricate design and have it act as the centerpiece of your backyard. In the bird birth, you could have a more natural design. Adding plants will achieve this better. And instead of having sand in the birdbath, you could fill it in landscaping glass. The Aqua Blue colored type would be perfect. Send us some of your favorite backyard design ideas for a chance to be featured on our social media and receive a gift card to purchase Exotic Pebbles and Glass products from Lowes!
Using landscaping glass will not only provide you with great beauty, it also will ensure that you are relieved of all maintenance responsibilities of the pond and still have it look like a natural pond.
Create a River
Landscaping glass is one of the best pieces to use in creating an imitation of a flowing river. There are lots of blue hue variations that create a cool and interesting variation. For instance, from exotic Pebbles & Glass, you can get the Bahama blend that comes with a mix of light blue and dark blue hues.
Fill up a plant bed
Truth be told, it is always hard to make a plant or flower bed look neat and clean. And rather than going through the trouble most people just leave dirt on them. But rather than allowing this to be a stumbling block to your backyard design ideas, explore other possibilities to make your ideas a reality.
To achieve the look you have imagined, fill the plant bed with landscaping glass that complements the flowers best. It would be best is the glass color contrasts with the bed edge as this will give it a cleaner and more neat look.
Using landscaping glass with the light blue hue color, you will end up giving an illusion of your plants floating in ocean blue water.
Landscaping glass usage as pointed out is numerous. And the best part is that it is easy to hack.

Fire Glass For Your Fire Pit Backyard Design Ideas
For the fire pit, you are considering of creating, there is a way to give it more oomph and attractiveness – fire glass.
Now, besides fire glass being attractive, it is known to produce a lot more heat than actual wood. In addition, it is environmentally friendly. It does not produce smoke, it has no odor and best of all, does not produce ash. You are able to enjoy the fiery embers and warmth at night without negatively affecting the environment.
But what is fire glass?
Simply put, it is tempered glass used in fire pits and fireplaces as alternatives to fake wood and lava rocks. Itself it is not flammable and does not do anything when you light it. If you have an actual wood burning fire pit, it cannot act as the replacement for real wood. It has a great visual appeal and mostly works with gas burning fire pits.
Exotic Pebbles & Glass has a wide variety of fire glass coming in different colors ranging from sky blue reflective to Tahitian teal reflective. 
Build an Aquarium For Your Backyard Design Ideas
Outdoor aquariums would be a great addition to your backyard. It adds an interesting touch and literally brings it to life. However, when you think of an aquarium, you probably will have an image of an indoor aquarium. Anything larger than that you automatically think is too expensive to bother with. Well, while buying one can be rather expensive, the process of creating one does not have to be – especially if you build it for yourself.
Good thing, creating an outdoor aquarium is easy. You can replicate an ecosystem and have the aquarium with the perfect conditions for it to support fish. The size of aquatic life the aquarium supports will obviously depend on the size of the aquarium.
Though we should mention, it might be challenging to build the structure. But with the proper guidelines, you can make create a functioning system at a low cost. That said, there is a factor that you need to consider – location.
Choose The Location
Choosing the right location for your backyard aquarium is imperative. It should be positioned in a place that it will definitely add beauty and still be away from direct sunlight. Additionally, the aquarium should be away from vibrations and drafts as these affect fish.
You should avoid building an aquarium under a tree. There is just too much risk under a tree. There are a number of things that could go wrong.
Location is critical to the success of the project in the long run. Also, depending on the prevailing climate, weather may also be a consideration you need to make. if you are in a cold region, you might want to have it in a greenhouse.
Depth and size of the Tank
The size of the aquarium is dependent on the quantity of fish you intend to have, materials and the available space. For material, glass is the most preferred material. Some use expensive acrylics.
Conclusion
With the 6 backyard design idea, you should have something to recreate a small heaven in your backyard at low costs. Be sure to be creative in the process.