Fire Glass Inspiration: Make Your Fire Pit or Fire Place Dazzle
The Holiday Season is one of our favorite times of the year to sit around an open flame of Reflective Fire Glass and the ones we love. Even though everyone has a ridiculous amount of tasks to complete in the last 50 days of the year, people are still filled with kindness.
With Thanksgiving approaching in a few days, people are preparing their houses to showroom quality before their family and friends come by spend some quality time. Now that the temperature has finally dropped enough to turn on the fire pits and fireplaces, you can finally switch out those old lava rocks or fake logs with Exotic Fire Glass and give your house a great little upgrade that is sure to impress your guests!
In this post, we will share with you many great benefits to using fireglass over lava rocks or fake logs, how it is made, how to properly install and use your glass, and we will give our recommendations on how to beautify your home for the holiday season.

Fire Glass vs. Gas Logs Vs. Lava Rocks
So what is the big differences between Fire Glass vs. Gas Logs and Lava Rocks? We are asked this question all the time and we love to answer it! First off, Fire Glass looks amazing inside fire pits and fireplaces. The way that the flames burn through the small spaces between glass looks much more elegant and luxurious than outdated ceramic logs and lava rocks. Second, lava rocks have a tendency to be extremely messy. After an open flame had been burning them for a while, they begin to fracture and turn into a dust that is near impossible to get off of your fire pit walls or patios. Ceramic Logs are no different,. Not only do they look strange because they are fake, but they blacken very quickly and have to be replaced .
Second, Fire Glass produces more heat than gas logs and lava rocks because of a few factors. All of our fire glass reflects heat much better than logs or lava because of the smooth surfaces and shine, however our Reflective Fire Glass works the best at reflecting the fire to the surrounding areas, thus it produces more heat.
If you are looking to make your fire extremely hot, we recommend setting your fire glass in a metal burning pan which will radiate 2-3 times more heat.
The History of Reflective Fire Glass
We got our start in the fire glass industry by manufacturing our own fire glass from 100% consumer recycled glass in our state of the art facility in Phoenix, AZ. This allowed us to perfect of color recipes as we moved abroad to work with some of the finest manufacturers in the world. The process starts off by melting down various types of recycled glass from old bottles and windows using specially designed furnaces that reprocess and heat the glass to 2880 degrees Farenheit.
At this temperature, the glass is molten and burns away any previously added materials to give it a distinct color or composition. From here, we add in our secret recipes of various metals and elements that give glass it's desired color. Each color requires a distinct cooling recipe because of their different compositions. Once the cooking and cooling process is complete, the glass is crushed, sized and washed to remove most of the sharp edges.
The Fireglass Coverage Calculator install
To install fireglass in an already existing fire pit or fireplace can be done by anyone that is able to lift the specific sized bag or bucket that was ordered. The most challenging part is determining how much glass you will need for your specific fire pit or fireplace. We have ended all confusion by creating the Fire Glass Coverage Calculator. Start by determining whether your fire pit is circular or square/rectangle (box).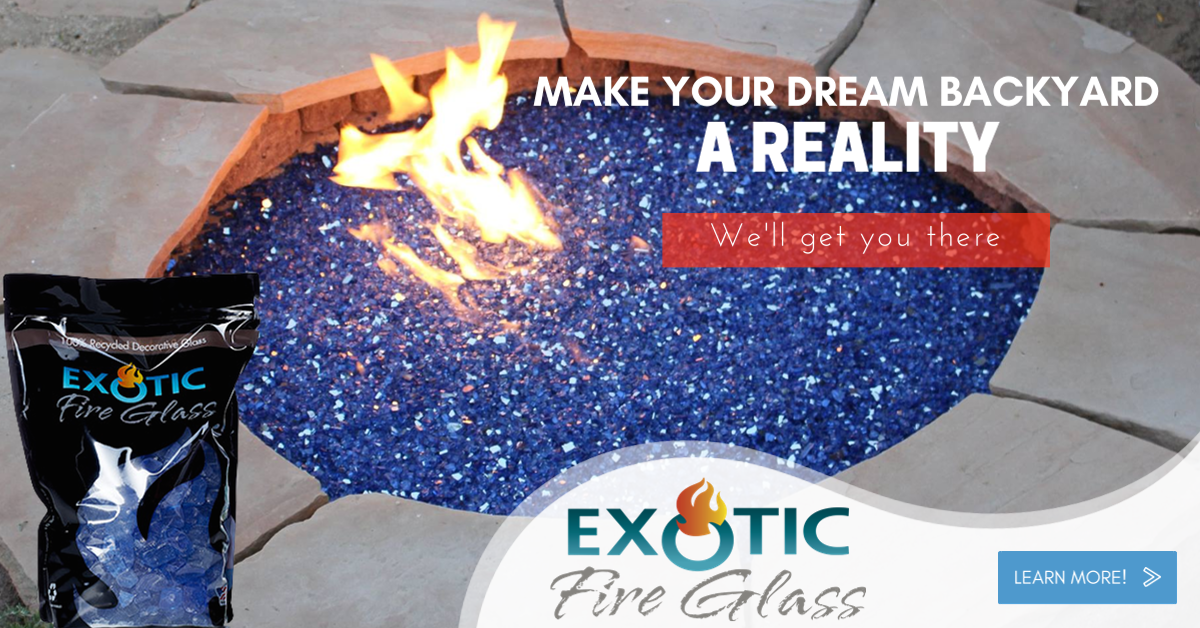 The Coverage Calculator will ask for either the diameter or width x depth of your fire pit location, followed by how many inches deep you would like your glass to be. We highly recommend choosing the two inch choice to make sure the steel burner where your gas is emitted is completely hidden from view. The Coverage Calculator will tell you right away how much glass you will need in pounds (lbs.), which will allow you to choose the correct sized bag or pale for the job. Next, clean out your old fire application lava rocks or ceramic logs and sweep thoroughly. While wearing a pair of workers gloves so you do not cut yourself, Pour the rocks in carefully and distribute the fireglass evenly until your steel fire ring or gas emitter is covered.
Remember that not all fire pits/fireplaces are the same. Some require areas to be free from coverage to allow for proper ventilation or air intake. Please remember to read the fire pit/fireplace manual before installing.
Operating your Fireglass Fire Pit
Every Fire Pit or Fireplace has its own set of rules and regulations on how to use. For the most part, having fireglass instead of lava rocks or fake fire logs should not change the way you operate it. We do however have some recommendations on how to operate your fire to help ensure the life of your fireglass. Exotic Fireglass will never melt, emit toxic fumes or become discolored if used correctly in fire applications less than 1500 degrees Farenheit. We recommend that if you have a choice between natural gas and propane, that you choose natural gas because it burns cleaner than propane.
Propane can cause some discoloration on some of the lighter colored glass and can also cause some slight discoloration/residue in the reflective fire glass collections due to it producing more carbon. Propane is also heavier than natural gas, which causes it to sink below the burner surface rather than mixing with the air above the burner. A buildup of propane may cause flare-ups or combustion under the surface, which may result in the glass (mostly the reflective fire glass) cracking and popping.
To fix this problem, we suggest using an LP converter, which is an air mixer if you use propane, which will allow air to mix with the propane prior to burning. This will lighten the heavy propane and remain above the surface rather than sinking. We also recommend using a pan burner system when building your propane fire pit to prevent the propane from sinking beneath the surface. This will also create more heat for your fire application to keep you warm and toasty.
Fire Pit Inspiration and Ideas
So now your are familiar with the benefits of fire glass, our manufacturing process, and how to correctly install and operate your fire glass application, we have some great recommendations for you during the holidays. One of our top sellers this year and since 2014 has been our Reflective Fire Glass. Unlike our recycled glass, or reflective fire glass is sourced from broken tempered glass panels that we create a mirror finish on one side, creating a brilliant, yet elegant look.
The goal is to pick colors that you will be happy with year around depending upon your interior decor or landscape style. The following are a few images of our client's houses that we thought did a great job of styling their fires for the holidays!
If you have lots of wood features, flagstone, or stone landscaping; you'll want to match a darker colored fire glass to your yard. View a full range of fire glass colors and sizes here. 
If you are worried about overmatching, the shine from the reflective surface will give it that little edge to break it up. Copper also goes great with backyards filled with green foliage.
If you have a fire pit by a pool, then we recommend adding the Cobalt Blue Reflective to match it. Be aware that blue is a very powerful color so if you already have a lot of blue in your yard, the color might create the illusion that your entire backyard is blue. In the above picture, these clients have just the right amount of blue features with the Exotic Landscape Glass in the planters, their bench cushions, and their umbrella that give it just the right amount of swag.
Remember, right after Thanksgiving is Christmas! Here our client did a combination of Crystal Reflective and Black Reflective Fire Glass to highlight the colors that are in the stone surrounding the fireplace. We love how they decided to separate the flamed area and surrounding areas because if they were mixed together, it would look much too busy. like wearing a striped tie, with a striped shirt and a striped suit… you just don't do it.
Thank you for stopping by to learn about our company and how you should style your house for the holiday season. If you have any questions regarding Reflective Fire Glass or Recycled Glass, don't hesitate to contact us at (760)444-4190. Happy Holidays!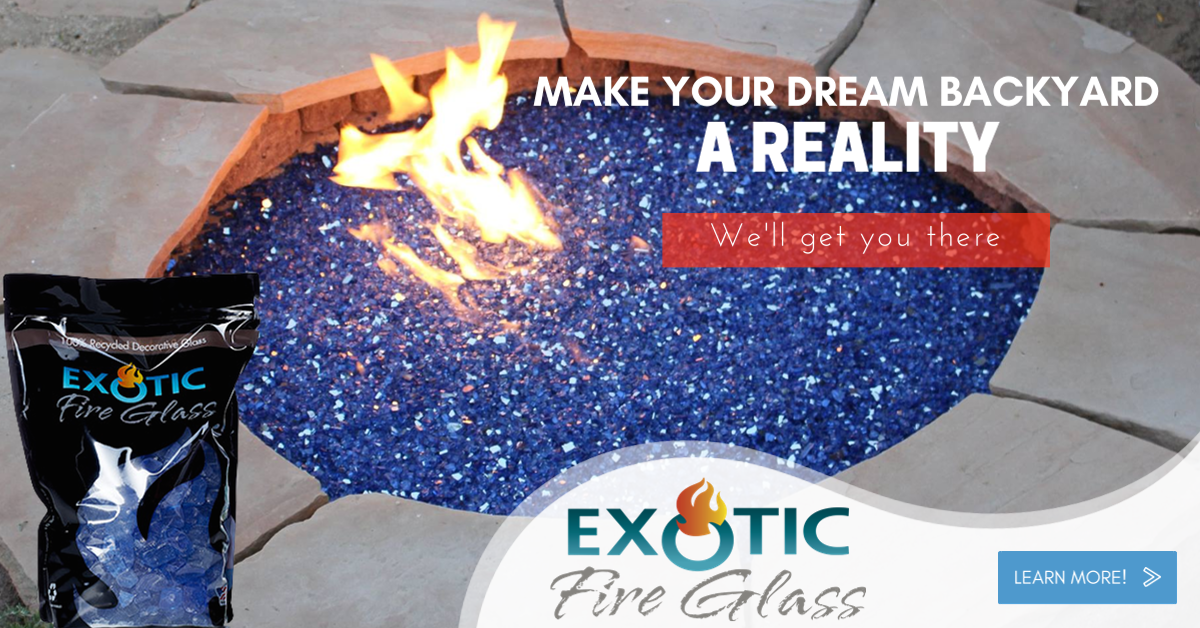 Related: Building a Fire Pit Guide