Fire glass is composed of tempered glass.  It is able to be used in a variety of locations, many people like to use them in a fire pit or a fireplaces whether they be stand alone versions or table top.  The appearance of fire glass when it is lit is breathtaking and it will certainly be the centerpiece to your yard while it is going.  It was introduced in the middle of the 2000s and has been growing more popular in the recent years.  It gives you the ability to keep a fire pit feel and still have a very modern and sophisticated look. 
Fire Glass Properties
Fire glass is not like burning wood.  It does have different properties.  Not only is this alternative material aesthetically pleasing it is also very useful.  This material has quickly become the better substitute for using ceramic gas logs.  When you use these logs, in replace of regular logs, you are able to tell they you do not have a earthy cozy fire.  You can often see the gas lines and that takes away from trying to enjoy your naturally burning fireplace. 
When you use fire glass you are not going to have those exposed gas lines.  Instead you are going to be able to choose from a variety of colors and shapes of the fire glass rocks.  These rocks can easily fill up you fire pit.  They are more pleasing to the eye, even when they are not lit.  When you do lite them, they have four times as much heat as their counterparts.  Everyone is always amazed to see these fire glass rocks lit up for the first time because it is quite a spectacular sight.
The way that his fire glass works revolves around the fact that these rocks are made from tempered glass.  The tempered glass goes through specific handling to create a glass that is able to withstand the temperatures of flames without melting.  Tempered glass itself is a safety glass.  It can often be used to help you have a more heat efficient home if you have windows made from this material.  There are also many different products that are created from this strong glass including your shower door, windows, and even computer screens. 
Recycled Fire Pit Glass Safety
Another aspect of this glass that everyone is sure to love is that it is made from recycled glass.  This product is the ultimate re-use it idea.  The original glass is taken and process to create a product that is not only beautiful, but it is also functional.  When you are burning this tempered glass you are not going to see any of the rocks explode, melt, or create any soot.  This makes it a much safer alternative for the environment.  As the rocks burn they are not going to let out any components that could damage the environment. (check out some examples of our recycled reflective fire glass in action here!)
Please remember to not try to use regular glass as tempered glass.  If the glass is not treated it will melt and you will end up with a molten blob of goop that you will ultimately have stuck inside your fire pit.  When you burn regular glass you can end up injuring yourself or others.  It has the ability to blow up and will produce a rather unpleasant smell.
If you are worried about the price point because of the elegance that this fire glass radiates, do not fear.  It is actually very cheap.  Typically you can find it for as little as a couple dollars per pound.  When you are purchasing feel free to shop around.  The glass rocks come in a variety of shapes and sizes.  They usually are shaped like pebbles, but they have also started to be molded into more interesting shapes.  You are able to find them in the shape of different crystals, diamonds, and other stones.  The shape of your fire glass is not going to change how it burns, it will only change how they appear. 
Decorative Fire Glass Measurements & Staging
When you are planning your purchase for fire glass remember that they are going to sit on top of your flames.  These pits are designed to hold the fire glass inside of them as they are burning.  Many people have posted pictures and videos of how they have decorated with their fire glass.  You are able to find many examples if you feel like you are stuck. 
The first step is really to decide if you're shopping for glass for your fire pit or fire place.  If you are really starting from the beginning and plan to build you're own fire structure we have a great DIY fire pit building guide.
It is simple to make a fire glass pit.  You just need to choose your pit, select a burner, connect a gas line, pour your fire glass inside, and then turn on the gas.
The flames are going to be able to rise through the fire glass.  The rocks themselves are also see through so you are going to be able to see the fire as it is moving through the rocks.  With a night backdrop you are going to see these stones shimmer with their fire.  Most people would think that the rocks themselves are on fire.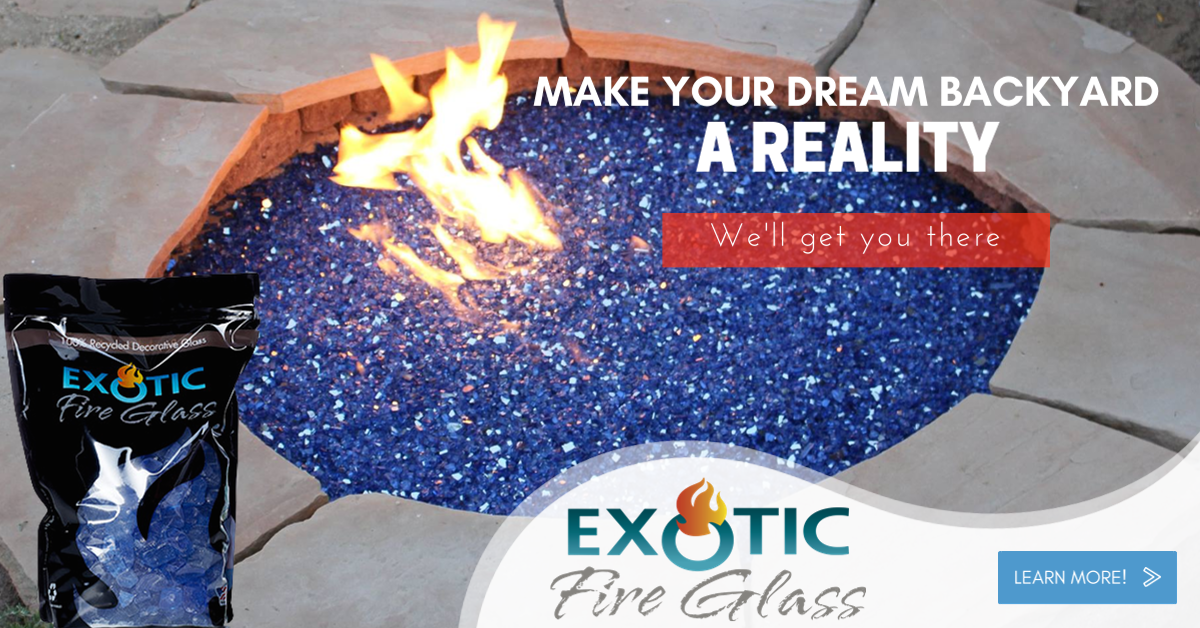 If you are someone that has a certain color scheme going in your yard that you want to follow you will not be disappointed with fire glass.  You are going to be able to choose from a variety of colors including orange, green, yellow and blue.  If you are interested to see how each of these colors react while in a fire pit there are many videos and pictures to show you.  It seems the most popular are the blue stones.  They really give the look of glass or ice with fire sitting on top.
Typically you are not going to need too much fire glass.  You are going to want to see how large your fire pit is and decide how full you would like to fill it. Use our fire pit place coverage calculator to determine how much glass you need. Fire glass can be used with both propane or gas fire pits.  I would suggest investing in a modern fire pit to match the superior quality of the fire glass.  It is going to bring your yard or room into a much more sophisticated level and be a focal point of all of your gatherings.